After overhaul ready for a second life.
After intensive use of your STUDER cylindrical grinding machine S33 we offer you the possibility to restore the original quality of the machine with a rebuild at the Fritz Studer AG factory.
In the area of machine rebuilding, STUDER can rely on its original equipment manufacturer's know-how and guarantees the technical condition of a new machine after completion.
STUDER does not just repair the precision-relevant components, they are completely replaced. It is not only a short-term correction of the precision, but also a long-term extension of the machine's life.
Guideways
The guideways are ground down and newly coated in a patented process (GRANITAN S103) with a unique dimple pattern. Tables and slides are reground and re-matched to the machine.
Spindles
The spindles, including the hydrodynamic spindles, are renewed.
Hirth coupling
Your cylindrical grinding machine receives a new Hirth coupling.
Drives
STUDER, the original equipment manufacturer, overhauls or completely replaces the drives. The belt pulleys are also replaced.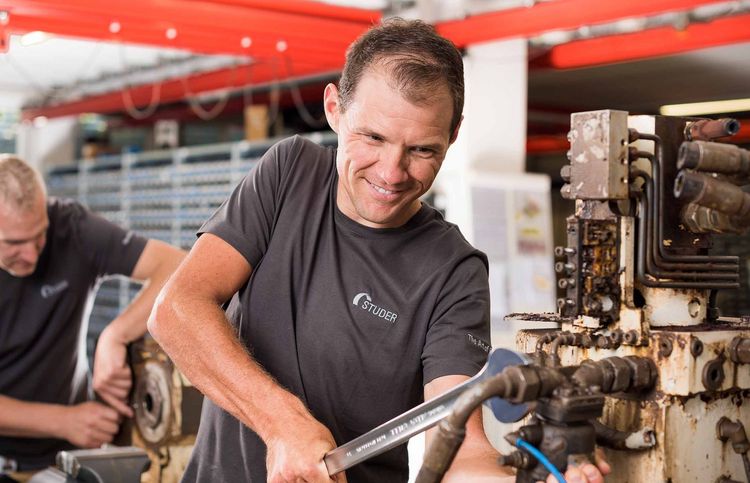 Machine overhaul
Rebuild of STUDER cylindrical grinding machines
Your advantages
Geometry is the same as a new machine
Extended service life of the machine
No retraining of your personnel is necessary
Existing tooling can continue to be used
STUDER services
Inventory by STUDER specialists
Low unavailability thanks to STUDER loaner machines
Exclusively original STUDER parts
Reconfigurations possible
Recommissioning with acceptance protocol
One-year warranty
Do something good for your machine and continue to grind on your familiar STUDER cylindrical grinding machine.
Over 200 Customer Care employees are at your disposal every day. They will be happy to answer your questions and are available for a discussion at your location, free of charge and without obligation. Find your direct service contact here.