Economic production with our grinding software
Over 100 years of experience in grinding is integrated into the STUDER software. Our software helps you reduce production costs. To do this, we support you through our flexible and simple software concept. For you this means: shortest setup, programming, and grinding times with the highest machine availability.
STUDER developed the "pictogramming" visual language for programming. No other supplier today can offer such a multitude of setup functions, grinding cycles and auxiliary functions. Even complex grinding processes are child's play to program and control. Your advantage: You can master the STUDER software within a very short time.
STUDER machines can always be upgraded with the latest features, remain state-of-the-art and maintain their value. They can also be upgraded with many expansion modules that optimize your specific grinding process directly on the control.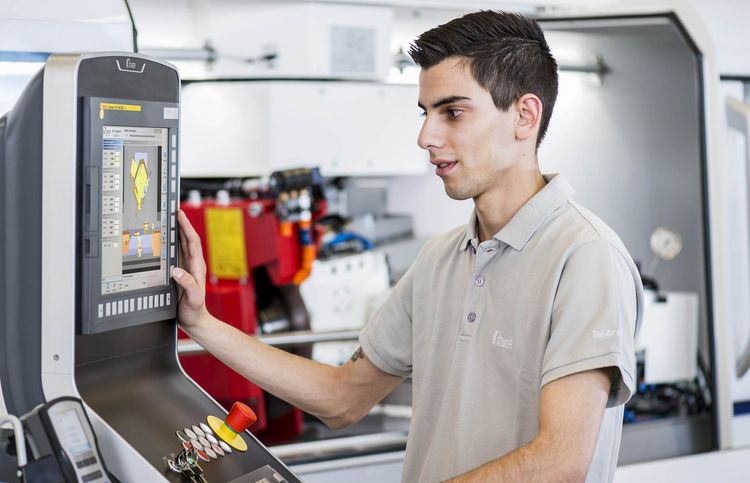 StuderWIN
The STUDER operating system allows the operator to set up the machine efficiently without navigating deep into the menus. The most important information is available at a glance. A Dialog leads you deeper into the software structure. The system has an open architecture, so that you can implement your own ideas and meet specific requirements. The main sub-areas of StuderWIN are setup, tool definition, program generation, process visualization, diagnosis and analysis.
StuderTechnology integrated requires just a few parameters to automatically calculate precise grinding parameters in just seconds. The program calculates the manufacturing task with only three parameters and grinds with optimal feed rates right from the start. Good quality is assured from the start, as is a stable process at start-up.
Want to earn even more with the machine? Then take advantage of the STUDER Quick Set extension pack. An electronic measuring probe allows you to retool in the shortest possible time. Unproductive downtimes can thus be reduced by up to 90%.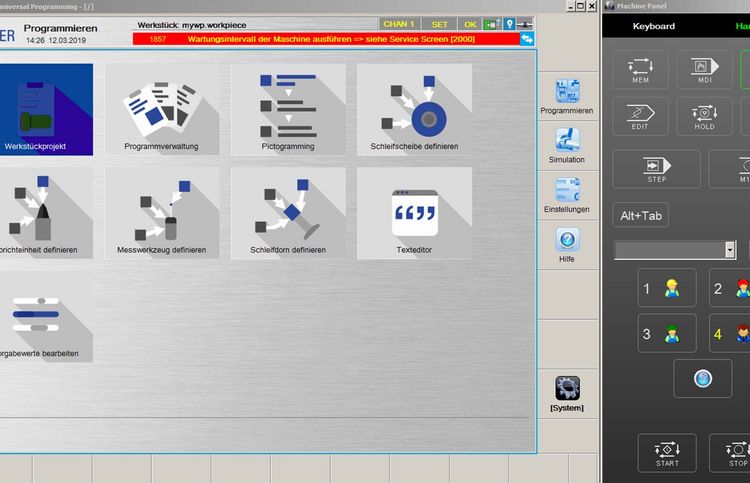 StuderWIN Programming
StuderWIN Programming is your software if you want to program offline. The data structure is workpiece-oriented, allowing quick access to all data. With StuderWIN Programming, grinding times are kept short, with optimized processes and preservation of new and existing know-how. Your advantages from StuderWIN Programming:
Graphical programming to create grinding programs
Programming the target positions directly from the workpiece drawing
Grinding wheel and dressing tool definition
File management with graphical preview and direct program call of additional modules
Ethernet data transfer, USB
No additional training needed
Identical configuration with machine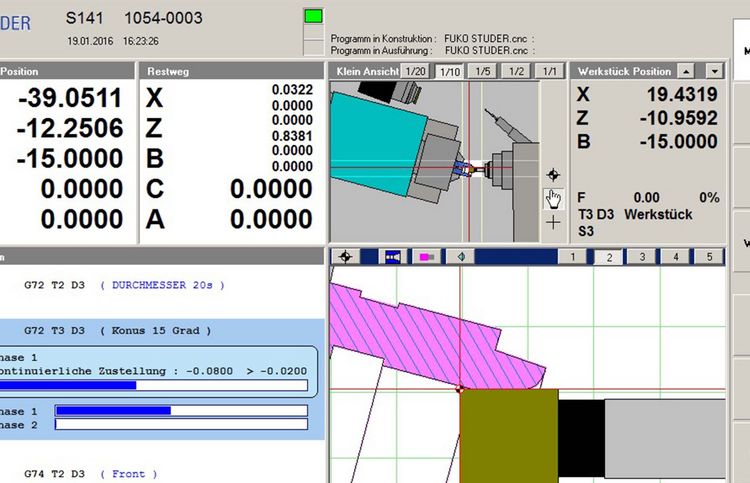 StuderSIM
StuderSIM is our versatile software for the STUDER internal radius cylindrical grinding machines. It enables safe programming of all basic cycles for grinding, wheel dressing and in-process measuring. The basic cycles such as face, bore, taper, thread grinding as well as wheel dressing and in-process measuring are defined in a parameter input window. This kind of programming guarantees tremendous flexibility and remains very user-friendly and production-oriented. Each cycle is equipped with a dynamic help function and guides the operator in creating the grinding data. After programming, the process can be simulated and optimized. This allows for short programming times, thus increasing efficiency.
Our software enhancements support you in your specific grinding task. Where do you want to optimize your process? In new and re-profiling? In peel, convex and contour grinding? In noncircular grinding? In thread grinding? Our special solutions provide you with the best possible support directly on the control.