Business year 2021 – Fritz Studer AG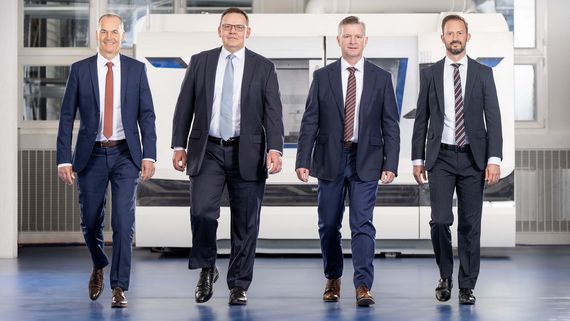 The conference took place online once again this year, due to the pandemic. STUDER broadcast live from the STUDER studio.
During the corona pandemic STUDER has succeeded in protecting its staff and companies thanks to the prompt and systematic introduction of measures. In the course of 2021 the economic situation also improved significantly and STUDER was able to once again enjoy the best aspects of cyclical business – a huge growth in demand for STUDER products and services.
"Despite the difficult economic situation and the pandemic, we have been able to develop our knowhow and market position. We have been able to significantly increase sales in 2021 and are also on a growth track in 2022," says Jens Bleher, CEO of STUDER. The fact that STUDER was always there for its customers has paid dividends. Thanks especially to the decentralized structure of the STUDER sales and service organization, STUDER has been able to work at any time and provide on-site support for customers in all markets. "Structural expansions are underway at the Biel and Steffisburg locations and investments are already being made in new products, machinery and equipment. STUDER has invested in the past few years and will continue to invest on a large scale in 2022", explains Jens Bleher.
Qualified employees have always been of key importance for the future of a technology company. For this reason STUDER trains its future specialists itself, also in professions that do not exist on the market. STUDER's strategy of continuing its full program of vocational training even in difficult times has proven its value once again during the upswing. "The number of apprentices has remained just as high, with a proportion of 11% of the workforce. This year we are even investing in another CNC machine of the latest generation for apprentice training and thus significantly improving the integration of our apprentices into operational pro-duction", says Jens Bleher. New successes can be reported from the European Skills Championships. Gil Beutler, the reigning Swiss polymechanics champion, won the silver medal at EuroSkills 2021 in Graz.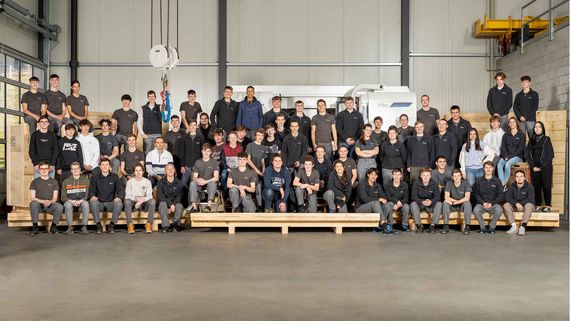 How did the order situation develop for STUDER in 2021?
After the slump in incoming orders in 2020, STUDER recorded a significant increase in orders last year. 2021 was one of the most successful years in the company's history in terms of order intake. While the start to the year was rather subdued, orders increased significantly overall towards the end of the year. "December was the strongest single month in STUDER's company history. And this was after a November that was already above average and can be counted as the fourth-best month in the company's history. All sales regions exceeded the ambitious plan. STUDER was also able to further expand its position in the market and win market shares", explains Sandro Bottazzo, CSO of STUDER.
STUDER's broad portfolio played an important role here. Both external and internal cylindrical grinding machines showed a very positive development. Only the area of production cylindrical grinding machines was below expectations. The S33 was the best-selling STUDER cylindrical grinding machine. With the S31 STUDER even clearly exceeded the most successful years and achieved a new record. Sales in internal grinding reached precrisis levels.
"We were able to significantly increase our market shares in 2021. The order situation in Asian, Latin European as well as Northern and Eastern European markets was very strong. In certain individual markets such as Turkey and especially in Italy, we also recorded an all-time record number of incoming orders", says Sandro Bottazzo at the press conference. Incoming orders were also very strong in North America and Central Europe, particularly towards the end of the year. STUDER sold its grinding machines in around 40 different countries in total.
The automotive sector was still weaker than in comparable years. Nevertheless, some orders were still won in this sector. The segment of medium-sized automotive suppliers, to which STUDER often sells universal machines, did well, however. The job shops were very strong last year and represented the largest segment. The job shoppers are and remain a very important backbone for STUDER, which will continue to be nurtured and developed in the fu-ture. The segments of machine manufacturers as well as die and mold also recovered.
The year was also extremely successful in Customer Care. From the very first month, in this case. STUDER achieved the third-best annual turnover in its history. "Capacity utilization in service in particular, as well as in maintenance, was at a record level. Spare parts turnover and order intake for overhauls also presented a positive picture", Sandro Bottazzo pointed out. Much was achieved in Customer Care in 2021: In the Customer Care Academy STUDER trained over 130 service technicians entirely online for the first time. The online training is now being further expanded, to provide service technicians worldwide with even more targeted and efficient training. The offering in the area of machine overhauls is also being expanded. In addition to the familiar complete and assembly overhaul, implemented successfully for decades, STUDER now also offers a slimmed-down STUDER Economy overhaul. This means that STUDER has a complete portfolio here too, from the affordable entry-level overhaul through to complete overhaul.
Development – presentation of a host of new products
In July 2015 the foundation was laid for digitalization in the UNITED GRINDING Group. Since then the CORE teams have been applying their combined expertise and working on joint pro-jects in all companies within the Group. A number of CORE work packages have now been processed and implemented in the area of software and hardware development. It has been a long and hard road to EMO 2021 in Milan, when CORE was presented. The new operating panel is the defining exterior feature of all machines equipped with the CORE technology. The operating concept heralds the era of the digital future. "CORE isn't just the operating panel, but a system architecture, which essentially consists of the four elements core.OS, core.UX, core.HW and core.Data", emphasizes Daniel Huber, CTO of STUDER. In order to fulfil the increasing networking requirements and the machine connectivity necessary for this in industrial production, the CORE teams have developed a platform which opens up possibilities for networking, control, monitoring and optimization of the production process.
China has always been an important market for STUDER. Here too, it is necessary to win more market shares. The STUDER KC33 machine built in China, which has proven itself on the Chinese market for many years, will be replaced and the portfolio extended by an entry-level machine. The locally produced STUDER machines are developed by UNITED GRINDING China. The two new machines will be launched in China in the spring.
The change within the automotive industry is gathering speed. The political pressure to reduce CO2 emissions and air pollution is increasing worldwide. These changes mean huge opportunities. For example, virtually all electric drives have a gearbox in which bevel gear shafts are used, among other components. Fuel cell electric trucks require high-precision shafts and sleeves for high-pressure compressors. STUDER offers an optimal answer for e-mobility workpieces and started a new development project to this end last summer. The new machine supplements the machine portfolio in the area of production machines. This new machine for highly productive grinding will be pre-sented at GrindingHub in Stuttgart in May 2022.
STUDER was affected by the fluctuations in orders and capacity utilization due to corona, particularly from the second half of 2020 until the middle of 2021. However, the proven Swiss short-time working model has enabled STUDER to guarantee its employees career stability and thus retain vital employee expertise in the company. "Particularly in uncertain phases like this, it is extremely important to keep all employees informed about the order situation and prospects through continuous and transparent communication", emphasizes Stephan Stoll, CCO of STUDER.
On top of all of this, a further unprecedented challenge was added from the middle of last year with the material shortage in the supply chains. Despite the very significant bottlenecks with suppliers, STUDER has succeeded in guaranteeing supply without any notable effects on machine output. In addition, maximum flexibility was required between purchasing and engineering, when components not available at short notice (particularly in the field of electronics) had to be replaced with alternative options.
Investments in the future
Despite the current challenges, STUDER is planning and implementing further substantial investments to strengthen its locations in Steffisburg and Biel. In the course of this year further automated machining centers will be put into operation for machining large cubic components and for spindle shaft production in Steffisburg, while investments are being made in Biel to optimize production processes and infrastructure. Also worth mentioning are sustainability projects to increase the company's own energy efficiency.
"All investments pursue the goal of increasing efficiency and agility of value creation processes. This willingness to invest also reflects the UNITED GRINDING Group's strong commitment to Switzerland as a center of business", explains Stephan Stoll.