https://www.studer.com/en/
STUDER
New uniLoad loading system
The intuition of the operator is unsurpassed for fine machining. For reproducible quality, however, automation cannot be omitted from the grinding process.
STUDER focuses on universality and speed with the uniLoad loading system. The automatic loading system enables users of the S31 and S33 external cylindrical grinding machines to increase quality and productivity.
Thanks to the modern and intuitive control, the system is so easy to operate that no special programming training is required. The control was developed by Wenger Automation and continues the STUDER operating philosophy. No programming skills are required. The user only needs to know the dimension and weight of the workpiece in order to use the loading system. The set-up wizard then guides the user conveniently through the necessary steps to start the grinding program.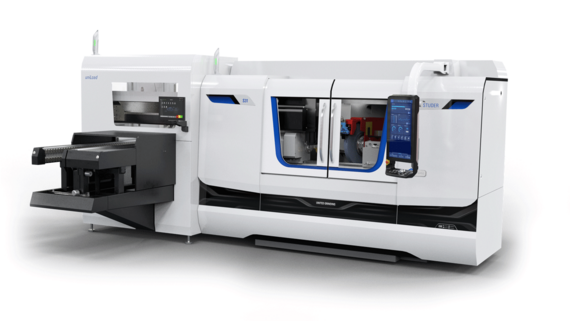 uniLoad is offered on the basis of a linear portal cell with two parallel grippers and is suitable for shaft components up to a length of 350 mm and a diameter of max. 100 mm. It thus covers a large proportion of the component ranges produced on these machines. The parts are supplied via a standardized, adjustable V-belt. The housing for the base module, which is provided with a loading hatch as standard, has been adapted to suit the machine design and enables safe and clean operation of the system.
uniLoad is currently suitable for distances between centers of 650 and 1000mm. The loading system is docked onto the machine and with the racks at full capacity enables automated processing of around one hour. In the case of workpieces with an external diameter of 34mm and a gripper diameter of 22mm, 50 parts can be loaded automatically. The look of the loading system is reflected in the aesthetic design of the machine, and as a standard product enables quick response and delivery times. Customized solutions are also possible. In addition uniLoad is expandable, so that future requirements can also be met.