https://www.studer.com/en/
STUDER
STUDER's new SmartJet® concept supplies a flow of coolant to the grinding wheel precisely and controlled by the machine. This saves costs and increases sustainability in production.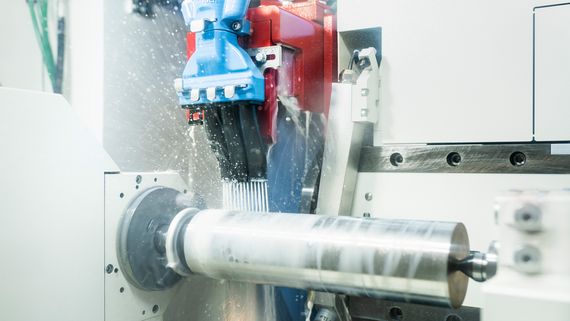 ON MANY MACHINES, it is the operators' task to manually control the cooling of the grinding pro-cess. The nozzles must be positioned correctly and the ball valve must be operated by hand. A pump then pumps the cooling lubricant (usually oil and/or water) to the grinding process location. Often, more coolant is used than necessary or the nozzles are not optimally positioned, which is bad for efficiency and the environment. STUDER is now breaking new ground with the patented SmartJet® concept.
The word "smart" says it all: from now on, cooling will be the responsibility of the machine control unit. The central components are a frequency-controlled pump and a dynamic pressure measuring unit. This makes it possible to set the volume flow precisely to suit the process, whether for roughing, fine grinding or finishing. The coolant flows through a distributor piece and flow-optimized, adjustable nozzles to the grinding wheel. "The concept guarantees precise and reproducible cooling," emphasiz-es Martin Habegger, project manager. "We create a consistent jet of coolant with a high exit velocity in the range of 12 to 20 m/s, which effortlessly overcomes the air movement caused by the wheel." As a result, process reliability improves and less coolant is required to produce equivalent grinding re-sults.
SIGNIFICANTLY REDUCED WATER AND ENERGYREQUIREMENTS
The SmartJet® nozzles developed for this purpose are state-of-the-art technology: they are slender and contain multiple adjacent channels that distribute the coolant evenly across the width. The mani-fold located behind can accommodate multiple nozzles in a row if required. Due to their complex design, SmartJet® nozzles and distributors are manufactured using 3D printing by our affiliated company IRPD in St. Gallen. The smart cooling concept was designed as a modular solution. Equipped with a quick-change system, the individual components can be combined in dif-ferent configurations in next to no time.
In conclusion: SmartJet® not only accelerates set-up time for users, it also enables them to grind significantly more efficiently and sustainably. "It reduces water consumption by 40 percent and energy requirements even by 50 percent," says Habegger and adds: "SmartJet® makes a significant contribu-tion to making machining more eco-friendly."